Jambatan Tamparuli is a Kadazandusun song that has become a beloved part of Sabah culture; sung at many weddings, festivities, and karaoke.
Fellow Sabahan Marsha Milan sang it on Akademi Fantasia (Season 3) when she was a contestant on the reality TV show.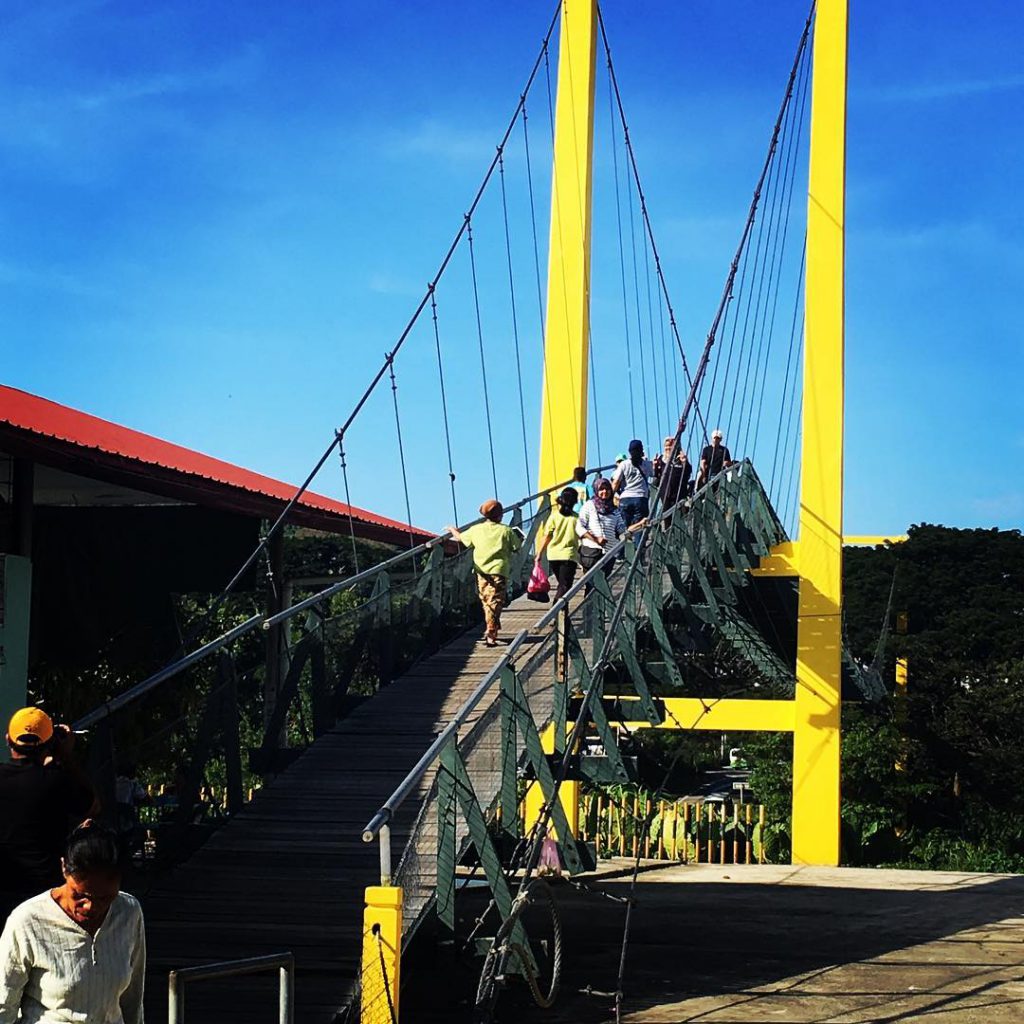 Composed and sung by Justin Lusah in 1977, it is in fact about a real suspension bridge in Tamparuli, built over the Tuaran River in the 1950s. This bridge was swept away by the raging waters in the massive 1999 floods, and in its place today stands a more 'modern' one.
Though sturdy, the original bridge was wobbly (it was a suspension bridge after all!) and many shoes and heels must have gotten trapped in the gaps between the wooden planks.
hence, Justin's playful lyrics about the missing shoe.
The song is in Kadazandusun language, and credit to Mr Ben Godomon for his translation of the lyrics:
I'm making a "Pak Pak" sound
As I walk along the bridge
The bridge of Tamparuli
while wearing high-heeled shoes
As I walk along the bridge
The Bridge of Tamparuli
I'm making a "Pak Pak" sound
while wearing high-heeled shoes
But damn my shoes
they fell off the bridge
only socks are left
which I brought home
On Wednesday
It's the Tamu in Tamparuli
I go around the shops
Looking for high-heeled shoes
LYRICS IN KADAZANDUSUN
Pak pak kang ku doh
Sumunsui doh jambatan
Jambatan doh Tamparuli
Bakasut tinggi oku
Sumunsui doh jambatan
Jambatan doh Tamparuli
Pak pak kang ku doh
Bakasut tinggi oku
Silaka nodi kasutku
Naratu lo jambatan
Tinggal poh doh sutakin
Nowid ku di numuli
Ontok di hari 3
Tamu lo Tamparuli
Mingusuk poh hilo kadai
Mogihum doh kasut tinggi
Images by yosoykamal instagram, arywinwong instagram